[GYEE-EN] Version 1.14.0 Update
Source:Gyee Official Website Date:11-27-2021
Dear Gyeemates,
We will release the latest version 1.14.0 on November 30th. The maintenance time is around 15:00 - 18:00 (UTC +8) for SEA server or 3:00 – 6:00 (UTC -4) for NA server. The maintenance time may change according to the release time of App Store and Google Play.
Please download the latest app version.
If you are using a Guest account, please update it in time in case your account might be lost.
01 BlackFlame Bloodshed
a) Top 32 players of the Arena and the Shadow Hunt, a total of 64, will be qualified for BlackFlame Bloodshed at 4:00 on Sundays.
b) If a player is qualified through both the Arena and the Shadow Hunt at the same time, Shadow Hunt shall have higher priority.
c) If the Arena doesn't have 32 candidates, the shortage will be filled with extra candidates from the Shadow Hunt. Otherwise if the Shadow Hunt can't provide 32 candidates, the shortage will be filled with extra candidates from the Arena.
d) If the Shadow Hunt and the Arena fail to produce a total of 64 candidates, the competition shall go on, with candidate shortage represented by blank slots.
e) Each event has four stages: Preparation, Ready, Combat, and End.
f) All fights are 1v1, and the final winner wins the championship.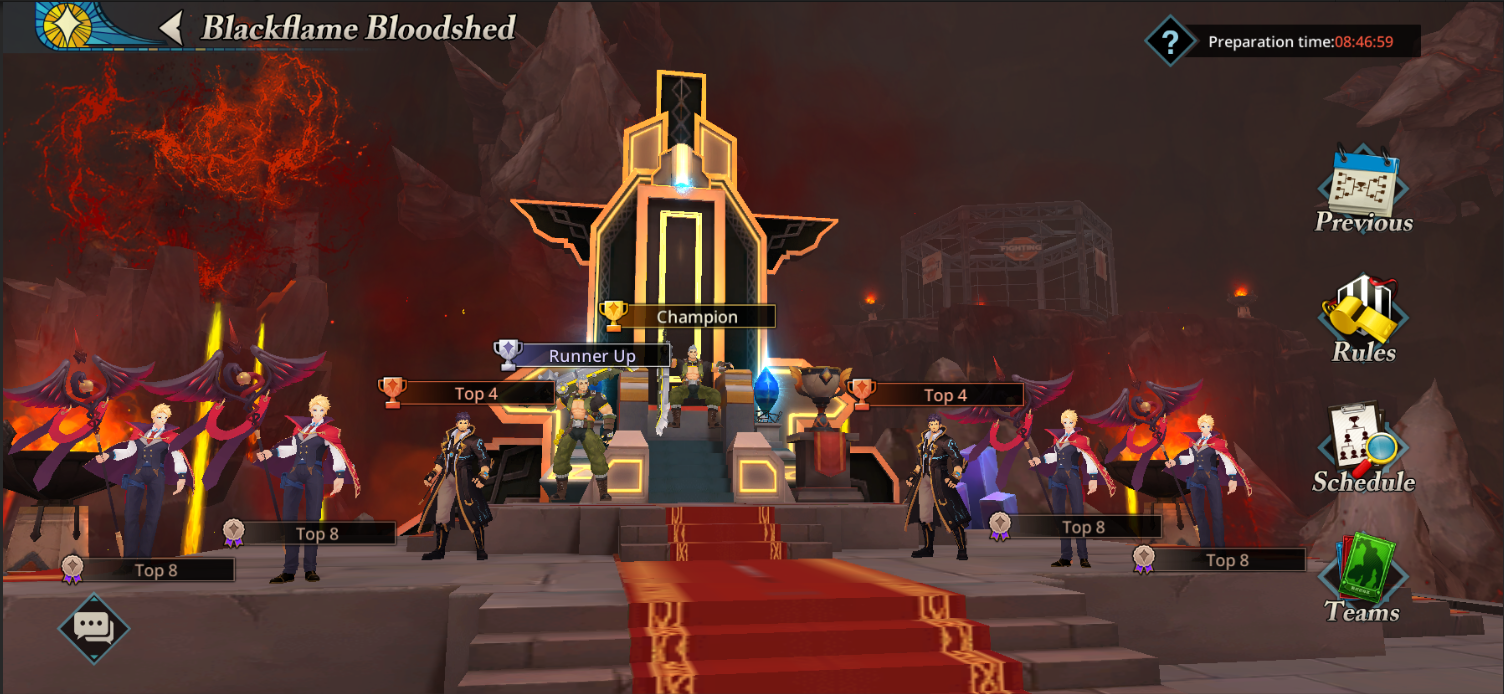 1. Preparation
a) The Preparation stage is for players to adjust their lineups. They can see who they're playing against, but not the opponents' lineups.
b) Each Gyee can be deployed for only once. You can keep the Gyee slot blank.
c) As a Spec is deployed repeatedly, its stats will dwindle. For a Spec deployed in battle 1/2/3/4/5/6 times, its Avatar will suffer a penalty to its P.ATK, M.ATK, and max HP by 0%/30%/35%/42%/50%/60%, respectively. Locked Spec cannot be deployed.
d) Each Combat round has an Epiphany limit. The Gyee you deploy can't have a max Epiphany more than the limit.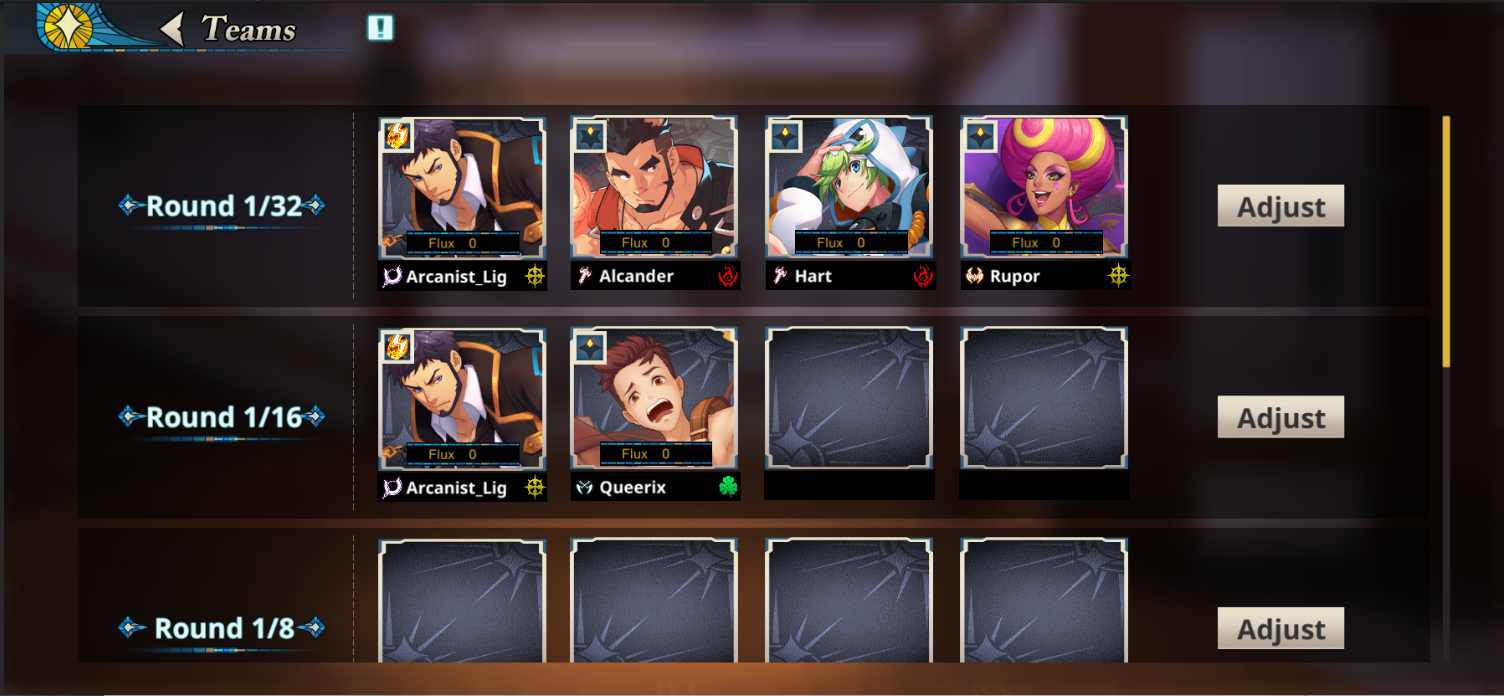 2. Ready
a) In the Ready stage, lineup adjustment is no longer allowed.
b) The system will automatically add Avatars and Partners if a player leaves any stage without any lineup.
c) If a player has assigned Partner without any Avatar in some stage, the system will automatically assign Avatar for the player.
3. Combat
a) The Combat stage consists of 6 rounds, each includes 5 minutes of betting and 15 minutes of combat. Your opponents' lineups will be visible in this phase.
b) Everyone can place bets on any player in the competition, until the betting time runs out.
c) Then players are pitched against one another in battle. Players who for some reason fail to enter combat will have one more chance to retry before the competition ends.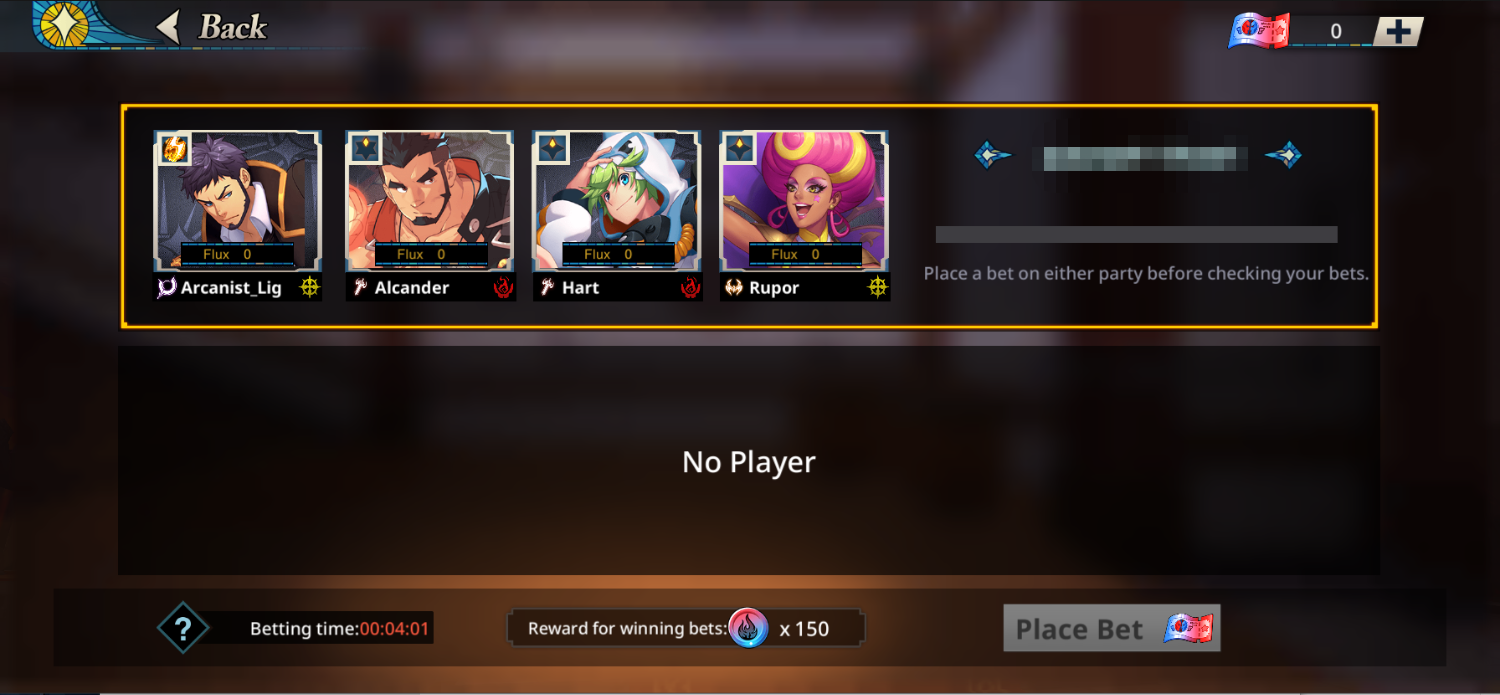 4. End
a) The End stage is for players to check competition schedules and bet results.
b) Combat and bet rewards are issued after the event concludes. The Top 8 leaderboard will be updated with new winners.
02 Other Updates
a) The Butler supports switching Morphed Gyees' form (currently only Alcander is supported).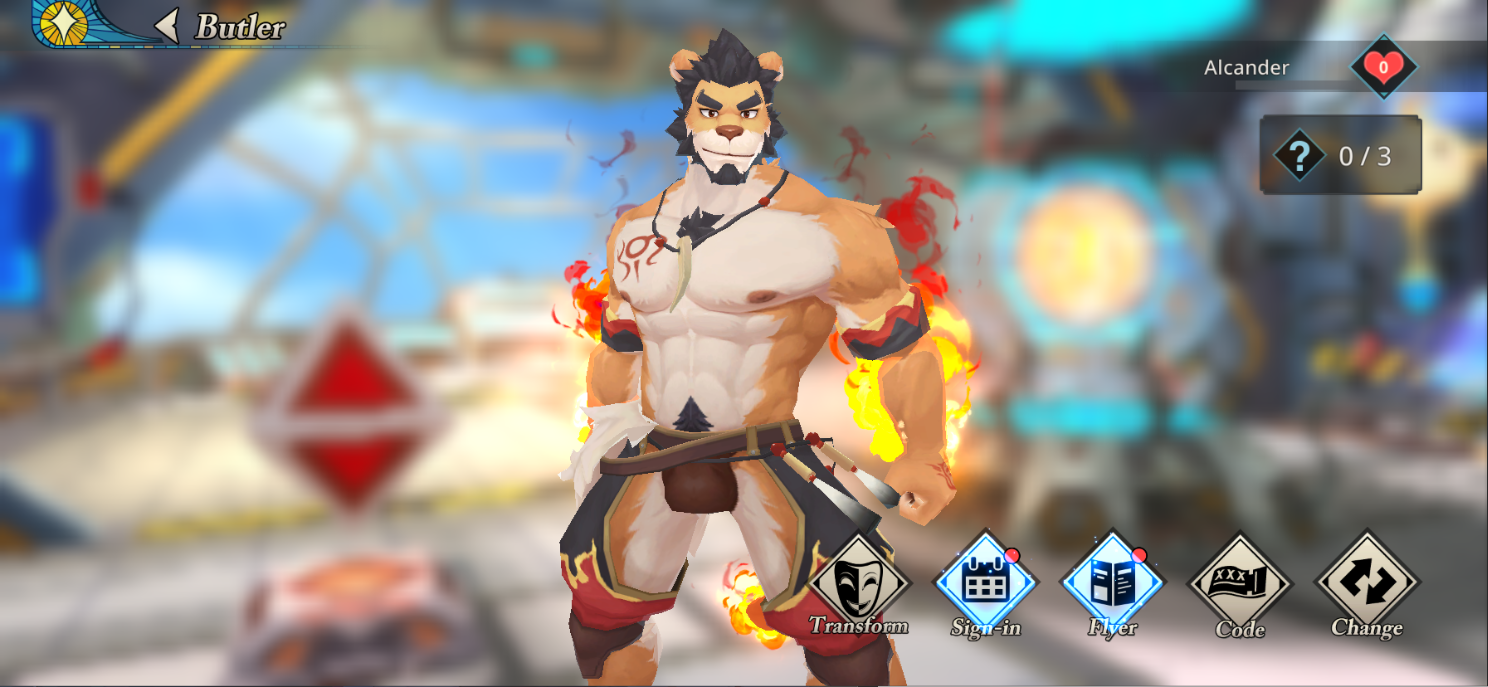 b) New bosses are added in the Shadow Hunt.
c) The Arena interface displays more information.
d) The new item [Jump Rune] sold in the Guild Shop can be used in the Inner Nexus to skip floor.
e) The monster info interface is optimized.
f) New Guild Match: Records the floors of Inner Nexus.
g) Pageant Event mail shows the number of your final votes.
h) To make different language versions of GYEE more clear, EN version's app icon has changed to a new one.
---
Gyeemates can contact us at any time through following ways:
Social Medias:
Twitter: @THEGYEE_COM
Facebook: Facebook.com/Gyee-English-2518807088339515
In the Game:
Click For Help in System Settings in the top right corner.
Thank you for your love and wish you a happy game!